Watch our Documentary (Reel Hope Films)
https://vimeo.com/225667783

Zululand South Africa. God is doing a mighty work here through the church and we are amazed at the radical way in which the Kingdom Culture and the True Gospel of the Kingdom of Grace is penetrating His precious people and bringing us all into a spiritual freedom and a spacious place of supernatural blessings. We send out newsletters from time to time so if you would like to receive an update please don't forget to subscribe to our newsletter in the blue box on the right (or below for mobile devices).
Early Beginnings
Edwaleni Church was supernaturally established on 7 July 1997. A team of apostles from New Frontiers International in England joined us on a ministry outreach, and during a random screening of the Jesus film in a farm shed, approximately four hundred people gave their lives to the Lord in our tiny village of Monzi. It took us two consecutive evenings to complete praying for everyone individually, and since that evening we have been meeting twice a week as a church. Praise God!
Since that night, we have grown from strength to strength in our church which we called Edwaleni which means "On the Rock" Math 16:18 The gates of hell have not prevailed!! We continue to overcome.
Soon we could no longer close the services with a "Go, I wish you well; keep warm and well fed". The hunger and poverty were heart wrenching. And so we began to introduce initiatives to address the hunger, poverty, illnesses, hopelessness and homelessness.
The Sunday Times article about us. Download the PDF here:

SundayTimesArticle.pdf1.17 MB21/06/2016, 07:38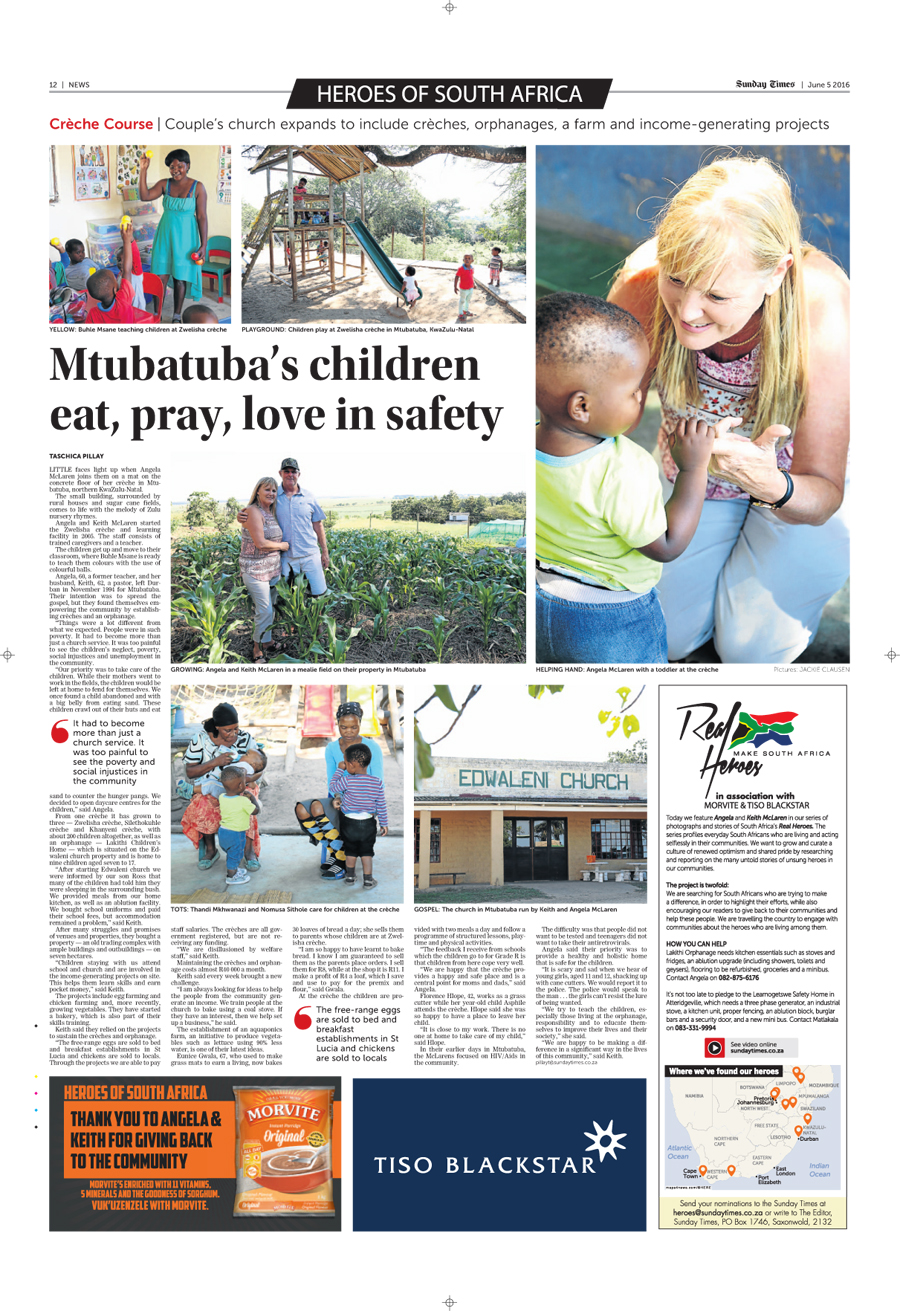 At Edwaleni we want to create opportunities to train the unemployed people of our community to learn skills and participate in income generating projects. Our first project was block making which is an opportunity for anyone who attend church and asks for job opportunities to earn an hourly or weekly rate for an honest days work. Each block that anyone makes is income paid per person and a proportion of the sale of each block goes to the Church.
In 2014 we erected a tunnel for vegetable farming and this project supplied fresh vegetables for our Early Childhood Development Centers as well as for Lakithi Childrens Home. Further to the tunnel method of growing vegetables we have recently started a school which imparts the method of Farming Gods Way. We are soon to reap the benefits of this farming method and we are preparing to establish centers of training in Farming Gods Way throughout our region.
Our Poultry Farm is really going well. We produce eggs and live chickens which are locally called "amaLamtutu". A live childen is a favourite among the Zulus and they sell very fast. We use some of the eggs to feed the children and the balance is sold to the local Bed and Breakfasts. The income is used for part of the running costs of the ministry.
The Aquaponics Plant has been such an exciting project. We are so grateful to Matt and Samantha Kelly, Andrew Fisk and JOSH IMHOFF for their expertise advice and support. Growing organic vegetables is a massive transformation and we are excited to start selling at our local Grocery Stores.
HELLO TO SPECIAL FAMILY AND FRIENDS OF EDWALENI – MAY 2015
It's so great to be writing a newsletter amidst joyous celebrations and happy occasions and without obstacles that we sometimes face! What a pleasure!
We would like to report back to you personally regarding the progress that has been made.
We are so grateful for the support of friends and family who care and value the ministry here amongst the Zulu nation. Your friendship, encouragement and financial support means the world to us at Edwaleni and indeed it means the difference of being able to continue and stay strong. Most exciting of all is the spiritual growth in the members of the Church.
Recently we have been able to assess their understanding of the Gospel of Grace through Q&A sessions (picture below left). Most of the members of Edwaleni Church have come out of a background of extremes - from hectic legalism to curses and spells of the witchdoctor to whom they pay enormous sums of money for the slim chance of escaping torture and torment from displeased ancestors.
We have preached relentlessly on Gods love and grace from every possible angle in the Word. We have been able to bless many with essentials such as food, clothing and blankets and we have created a spiritual home for them to live their lives from. Its been exciting to see the transformation and going by the questions asked during times of honesty with independent people, it is clear that they have grasped the true gospel and are excited and relieved at the peace and rest which is theirs in Christ Jesus.
Subcategories